Reaching out from Romsey, Eastleigh and Chandler's Ford, we are OUTREACH RADIO, your local community radio station.
Broadcasting for nearly six months until September 2020 as Lockdown 100.7 FM, under a temporary FM broadcast licence granted to radio stations supporting local communities during the Coronavirus (Covid-19) pandemic, OUTREACH RADIO is the evolution and continuation of this community radio service.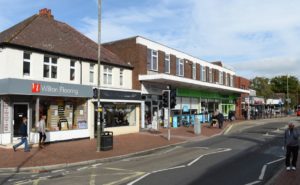 Lockdown FM was originally set up as a temporary radio station designed to support and entertain the local community during the difficult time of the pandemic and lockdown.
Established and operated by local volunteers, it became very clear during our time on-air that this service was not only incredibly well received by the communities across Chandler's Ford, Eastleigh, North Baddesley & Romsey, but that the support we have been able offer to the community was also greatly valued.
Even though the temporary FM licence for Lockdown FM expires at midnight on the 5th of September 2020, the team are now working on a new goal of broadcasting permanently on DAB (Digital Radio) instead of FM, across a wider coverage area, and with improved signal reception, to allow us to continue to to provide this service to our community.
We have established ourselves as a not-for-profit Community of Interest Company: OUTREACH COMMUNITY RADIO C.I.C. – meaning ALL profits go back into OUTREACH RADIO or community projects as opposed to the hands of shareholders. 
Operating as a permanent radio station will allow us to carry advertising, sponsorship and promotions, which our temporary licence conditions as Lockdown FM did not allow.  This will allow us to hopefully stand on our own feet financially as a local business and potential employer, whilst supporting other local businesses, events and activities across our area too.
If you are a local business that would be interested in finding out more about sponsoring OUTREACH RADIO and helping us quickly return to the airwaves in return for advertising and promotion, please contact us.
We are hoping our move to DAB will be a very quick and natural transition, however, during the period in between FM and DAB when we will not be on the the airwaves, we will continue to provide our service via the Internet.  Listeners can continue to tune in via the Listen Now links on this website.
If any members of the community would like to volunteer to help with OUTREACH RADIO, please do not hesitate to contact us.
Outreach: an effort to bring services or information to people where they live or spend time (Cambridge English Dictionary)
Outreach is the activity of providing services to any population that might not otherwise have access to those services. (Wikipedia)
Outreach is often meant to fill in the gap in the services provided by mainstream (often governmental) services, and is often carried out by non-profit, nongovernmental organisations. (Wikipedia)