Swan Centre, Eastleigh25th & 26th June 2021
On Friday 25th & Saturday 26th of June, Outreach Radio successfully conducted it's first ever live outside broadcast from the Swan Centre in Eastleigh.
Based in the the Flourish Shop managed by One Community, the Eastleigh & Fareham-based charity, Outreach Radio, as a social enterprise, was able to set up temporary studios and a base from which to meet and greet the general public.
Live broadcasts were conducted over both days, with an updated schedule for the Saturday to accommodate a broad range of presenters and musical styles.  Time slots were allocated for interviews with local charities, including:
The biggest take-away message from all charities was the call-out for volunteers and helpers, as the pandemic has massively impacted their ability to fundraise.  If you're in the local area, please consider offing your support and time to  assist our local charities who have been doing an amazing job supporting the local community during these unprecedented times.
With PPE and safety measures in place, this was the first time that many of the Outreach Radio team had met face-to-face due to the pandemic.  This event also gave Outreach Radio the perfect opportunity to meet some of it's listeners, raise awareness of the station for those who may not have come across Outreach Radio before, hand out mini-flyers and  colourful Outreach Radio branded face masks to help protect the community – an appropriate gift from a radio station which came to life to support the community at the start of first lockdown!
Outreach Radio's wonderful team of volunteers also took to the streets of Eastleigh, armed with a petition for support of the radio station, as we're hoping to make the currently temporary 100.7 FM service that broadcasts across Eastleigh, Chandlers Ford, North Baddesley & Romsey a permanent fixture from we can continue to support the local area.
Presenters from Outreach Radio across both days included:
DJ Oz,  Island Vibrations presenter & Outreach Radio Managing Director
16 year old Groovy Pelican with his Classic Top 10
15 year old Deejay GG, presenter of the Weekend Warm Up on Saturday afternoon/evenings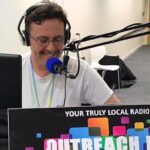 Cliff Proctor Radio Doctor with Classic Hits
Jef Powell, our weekday afternoon presenter
Mike the Music Man, our Saturday morning & Sunday afternoon 60's & 70's shows presenter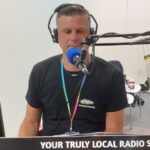 Shaun O'Brien, our weekday Drive Time presenter
Other volunteer presenters kindly joined in the fun across both days, and helped spread the word about Outreach Radio.
Matt Belsey (Club Lockdown presenter & manager), Colin Old (Sunday morning Classical Music), Shaun O'Brien & Rich Lawrence, (100k show & Songs of Worship)
Ian Fisher (Weekday Breakfast presenter) & Mike the Music Man
We had a fantastic couple of days, and send our deepest thanks to Chris @ Flourish and Jean & Naomi @ One Community for their support in enabling us to carry out this event.  Keep a look out as we'll be back in Eastleigh for more live broadcasting very soon 🙂