Outreach Radio live on 20th May from Chandler's Ford for the "Valley Park Life" mini-festival.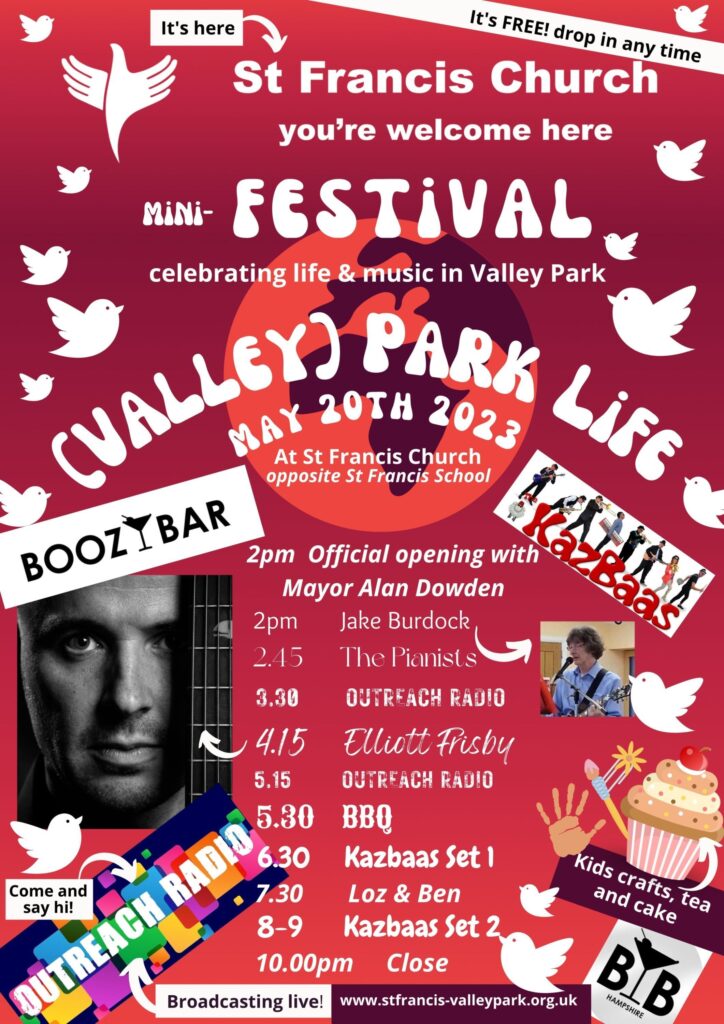 On Saturday 20th May, Outreach Radio was back for the second year of all-day broadcasting live from Valley Park in Chandler's Ford, for the "Valley Park Life" mini-festival.
The annual family festival, organised by Reverend Sarah and her team at St Francis Church, (big shout to Peter, the lead organiser for the festival), was a celebration of all things local in Valley Park.
With fun, games and face painting activities for the children, Boozy Bar for the grown-ups, cakes sales and BBQ, visitors from across the area and beyond were also entertained by local musicians, Jake Burdock, The Pianists, Elliott Frisby, The Kazbaas, and Outreach Radio.
Resident of Valley Park,  recently re-elected Councillor in the local elections with a landslide victory, and Mayor of Test Valley, Alan Dowden, opened proceedings for the day with a heartwarming speech reflecting on his love of the area and passion for working hard for Valley Park. Alan was joined by his wife, Celia Dowden, also a Councillor for Test Valley, who also gained an overwhelming majority in the recent local elections.
Onur, "The Groovy Pelican" from Outreach Radio, one of the radio stations young presenters, (who also happens to be studying Politics at Peter Symonds College in Winchester and is starting his A-Level examinations this week), jumped at the opportunity to interview Alan live on the radio and find out about his plans, and how the forthcoming changes by the boundary commission might affect the local area, to which Alan was very pleased to chat and answer his questions.
With the weather on best behaviour, this was the perfect day for everyone to come together, to relax, socialise and enjoy each others company and some great music, whilst celebrating their local neighbourhood and community.
Outreach Radio broadcast live for day from 11am until 6pm, then again from 8-9pm in a special broadcast to feature the live performance local ska band, The Kazbaaas.
DJ's on the day from Outreach Radio were afternoon show presenter Shaun O'Brien, Drive Time & Island Vibrations presenter & station manager Osman (DJ Oz), and under-18's presenter Deejay GG (Georgina), and guest appearances from The Music Man Mike Joyce and Rich Lawrence, presenter of the 100k Show & Songs of Worship on Sunday mornings.
<< Audio highlights are currently being edited and will be available in the coming days. Please visit this page soon to listen again. >>
If you are a community group in the Outreach Radio coverage area, and you would like us to join in your local event, please contact us to find out more, but don't wait too long, as our bookings calendar is filling up!