Outreach Radio live from the Mayor's Picnic in Romsey Memorial Park
On Sunday the 2nd of July, Outreach Radio broadcast live from the Memorial Park in Romsey for the 2023 Mayor's Picnic brought to you by The Rotary Club of Romsey Test.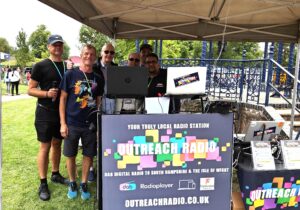 The annual event, hosted by the Mayor of Romsey and the Rotary Club of Romsey Test, included fun activities for all ages and stands from a number of charities and local businesses and volunteer groups. This was the first time that Outreach Radio had joined the event held in one of it's core heartland broadcast areas, and we had an absolutely wonderful time!
The live broadcast began at 11am with the first hour of "The Music Man" Mike Joyce's Penny Farthing Music Show, in which he played some well-loved classics from yesteryear, and to which people dotted all around the park could be heard singing along. Though this went down very well, Mike disappeared shortly after his show only to later be found locked away in the back of the Hampshire Constabulary Police van… possibly something to do with his terrible jokes!?! 😛

Shortly afterwards was the parade from Romsey Abbey to the Memorial Park with the Old Cadets Carnival Procession, followed by the opening ceremony from the Mayor of Romsey and President of the Rotary Club of Romsey, the the Town Crier officially getting events under way.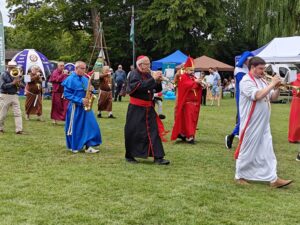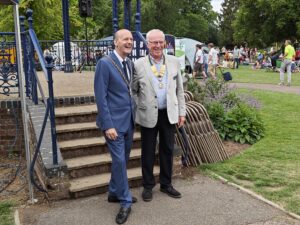 The Outreach Radio roving reporters including Shaun O'Brien & Rich Lawrence were all around the park throughout the day interviewing local charities and people visiting from in and around the area.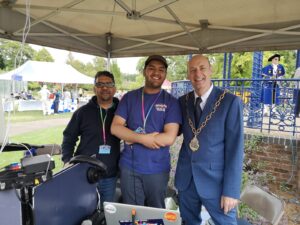 There were performances from various local groups, including Punch & Judy shows, a Children's Disco on the Bandstand, (with DJ's from Outreach Radio, of course!), an absolutely amazing Taekwondo demonstration and the extremely talented Mountbatten School Big Band, who also performed on the Bandstand whilst being broadcast on Outreach Radio.
There was also the Scouts assault course and Rotary Soakabloka, which given the lovely weather, allowed those who got soaked to dry off pretty quickly.  It was impossible to wipe the smiles from Outreach Radio presenters Rich Lawrence & Mike Joyce after their fantastic train ride, which transported them back to their childhoods, and left them behaving like 8 year olds all afternoon! 🙂
Romsey resident presenters from Outreach Radio were there in force too, including Steve Ridout, host of Wednesday-Friday afternoon shows and Indie shows on Tuesday and Sunday evenings at 7pm,  and members of the team that are connected to RAODS, (Romsey Amateur Operatic and Dramatic Society) and Romsey's Plaza Theatre, including Matthew & Georgette Ellison, presenters of Outreach Radio's weekly arts & theatre programme, Sunday Show Night which airs every Sunday evening at 9pm, and Bob Heather, presenter of a weekly relaxing music show at 10pm on Sunday evenings.
Later in the afternoon was the Duck Race, with yellow and some hand-painted ducks released from the bridge onto the River Test. Outreach Radio presenter Shaun O'Brien hosted this event, with radio commentary that would leave the even most seasoned sports broadcasters in awe! 🙂
This was a wonderful day for all all who attended, and it was lovely to see families and people of all ages from Romsey and surrounding areas having so much fun whilst supporting the numerous charities and local groups in attendance too.
Outreach Radio would like to thank the Rotary Club of Romsey Test and the Mayor of Romsey for inviting us along, and send our thanks and appreciation to the people of Romsey for making us feel so welcomed.