Outreach Radio at Victorious Festival 2023
On Friday, August 25th, DJ Oz and Onur (The Groovy Pelican) went down to the Victorious Festival in Southsea to interview the amazing local artist performing there!
The Victorious Festival is an annual music festival in the heart of Portsmouth, featuring a variety of artists, both local and from further afield. This weekend, over 170,000 festival goers descended onto Southsea Common for three days of incredible performances, family themed entertainment and comedy. This year's headliners included such amazing artists as Jamiroquai, Kasabian, Mumford & Sons, Sigrid, Johnny Marr, The Divine Comedy and many more.
Prior to the festival itself, The Groovy Pelican conducted interviews with some of the local artists playing across the festival, including Frankie Knight, Our Propaganda, River Knight, and the "Road to Victorious" winners Crystal Tides.
During the first day of the event, DJ Oz and The Groovy Pelican roamed around the various stages of the Victorious Festival, interviewing local artists who were playing on the day, including Bella Estelle, Welly, Tuto Marcondes from the Tuto Tribe, and many more! We also had a chat with a few people behind the World Music Village section of the festival, including Moses from the charity "Arms Around the Child", and members of Solent University's media faculty.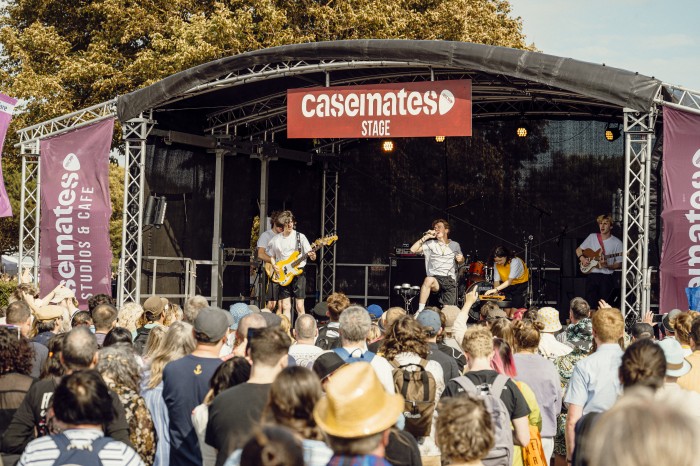 James Ralls, Festival Director said: "What another incredible year we've had with our Victorious family! The weather was on our side and it was great to see so many people join us on Southsea Common to enjoy three days of amazing music, family entertainment and activities.  Thanks for joining us and see you all in 2024"
Victorious 2024 is the tenth outing of the festival, which has seen headline performances from the likes of Prodigy, The Streets, Sam Fender, New Order, Paul Weller and Stereophonics.  Early bird tickets for Victorious Festival are on sale now with weekend camping tickets from just £145 and day tickets from just £55 (fees apply)
Everyone from the Outreach Radio team who was there really enjoyed it, and we hope to see you there next year!