Friends of PICU raises a fabulous £4,711.38 at their Chandler's Ford Fun Day
Outreach Radio joined Friends of PICU on Saturday 23rd September 2023 for their Fun Day at the Cleveland Bay Pub in Chandler's Ford, where they raised an amazing £4,711.38.
Presenters Shaun O'Brien and Mike Joyce entertained the crowds during the 4-hour live broadcast, during which they interviewed Friends of PICU supporters and volunteers to help raise awareness and the profile of this local charity – whilst of course playing some excellent music!
PICU is the Paediatric Intensive Care Unit, the leading centre for paediatric intensive care in South Central England. Their 14 bed purpose built unit cares for children from birth up to 18 years of age.  They care for patients with some of the most complex illnesses and injuries and work closely with specialists from all surgical and medical areas.
The unit, which looks after 950 to 1,000 patients per year from across southern and central England, is the sixth largest PICU in the UK by number of admissions and has one of the best survival rates. Operating a 24-hour retrieval service, children are referred from hospitals as far afield as Plymouth, Milton Keynes and the Channel Islands.
The team also provides medical and nursing training and has close links with the University of Southampton. They are actively involved in research and have made significant contributions to all the large national and international collaborative PICU studies.
Kerry Houghton, Operations Manager for Friends of PICU wrote to us a few days later with a wonderful thank you email:
I wanted to email you to thank you and your team for coming along to our Fun Day on Saturday – the support from Outreach Radio truly was incredible, and having you there really made our event so special.  Shaun and Mike were absolutely incredible, we couldn't have asked for any better music entertainment.  Thank you so much.  To have Outreach Radio there broadcasting live was an incredible opportunity for us to spread awareness about the charity and the Paediatric Intensive Care Unit, and the work that we do – thank you so much.  The music was fantastic and I know that everyone really enjoyed it.

You just made for a great atmosphere, thank you so much.  Please pass on our heartfelt thanks to Shaun and Mike for everything they did – they were fabulous!

I'm delighted to share that our Fun Day raised a fabulous £4,711.38 for the Paediatric Intensive Care Unit, and we're so very grateful for your support on the day in helping us raise this.
Outreach Radio and it's local volunteers are very proud to support local charities such as Friends of PICU, and help raise the profile of their fundraising campaigns and events.  The work they do is extraordinary and life changing, as listeners will have heard on the radio on the day, and it's a pleasure to help contribute to the success of such events.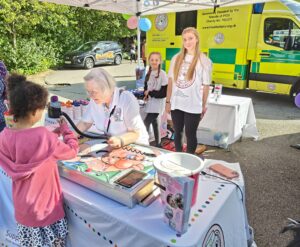 Fundraising for PICU
There are two main ways you can support Southampton PICU:
Friends of PICU
You may wish to support the Friends of PICU (registered charity number 1116880), a charity that is run by volunteers who have all had, or known, a child who has been cared for on PICU.
The Friends of PICU exists to raise money to support the unit, children and their families by providing equipment and services that are not always provided by the statutory authorities. Recent projects have included providing new specialist cots, ventilators and art and craft materials to desensitize the medical environment where possible. They have also supported a major project expanding the PICU by adding two new bed spaces, with a longer term project to refurbish the PICU family accommodation.
Another key ongoing project is fundraising to update the dedicated PICU specialist retrievals ambulance. The charity is very proud to have donated the full cost for the last four ambulances, which provide a key part of the PICU service, collecting and returning children from across the South of England and the hospitals supported by the PICU.
Your support will help to make a real difference to the PICU, the children and their families and the amazing service provided by the NHS.
If you would like more information about the Friends of PICU please contact them via the Friends of PICU website or email info@friendsofpicu.org.uk.
You can also call 077 5737 3513 or search for Friends of PICU on social media.
Southampton Hospital Charity PICU fund
Alternatively you can make a donation to PICU via the main Southampton Hospital Charity, and choose between donating to the general fund that benefits all hospital services, or the special PICU account that is only spent on PICU services.
If you are a local charity looking for support from Outreach Radio – Your Truly Local Radio Station, please do not hesitate to contact us.