As part of Outreach Radio's "Truly Local" approach to radio broadcasting, we are very strongly committed to supporting local artists and musicians by helping to promote musical works and information via the radio.
Below are some of the activities undertaken by Outreach Radio to assist in artist development and promotion:
---
Weekly broadcast on Friday evenings at 6pm in partnership with HMV in Southampton – AKA "Live & Local"
An opportunity for local musicians to perform live in a high-profile in-store environment, to which they can invite friends and followers to come and enjoy their music for free.
This hour-long session is broadcast at peak radio listening time, and offers musicians the chance to perform live on the radio and also speak about their music and activities.
At the end of each session, Outreach Radio hosts bring the performance to a close with a brief interview, prompting promotion of where to find out more, social media links and forthcoming gigs.
Recordings of the HMV Live & Local sessions are re-broadcast the following week, and made available permanently on the Outreach Radio dedicated HMV Schedule & Catch-Up page.
---
Regular airplay of music & features from local artists
With content from over 50 local artists in our library, songs are broadcast at various times of day
During mainstream shows between 6am & 7pm, with one or two different local artists songs played every hour
Information provided to presenters to ensure details about artists and songs can be mentioned
Specialist shows in which new releases from local artists are featured and heavily promoted
In-depth sessions hosted by Onur AKA "The Groovy Pelican" on Monday evenings
Includes live studio interviews and acoustic performances from local artists
Feature-length programmes can run for up to 3 hours, and explore local artist musical interests, influences, lyrics, and discography
Features include online articles & write-ups, with Catch-Up access to interview sessions
---
Other activities and live broadcasts include:
---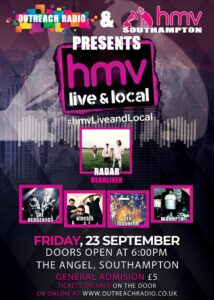 Charity fund-raiser & live broadcast in partnership with HMV, featuring local bands, with ALL proceeds from ticket sales donated to the War Child charity.
---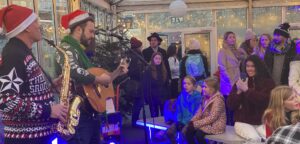 Invitations for local bands to perform at West Quay on Ice, the ice rink at Westquay Shopping Centre during the Christmas period. This event has a huge public footfall, with thousands of attendees. Live performances are relayed across the ice rink, and also broadcast live on Outreach Radio.
Live all-day broadcast from the Romsey Beggars Fair. Feeds from different stages featuring local artists broadcast on Outreach Radio & Outreach Dance, creating two distinct services. Opportunities to perform at other live outside broadcast events – please email us to find out more.
---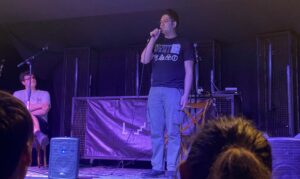 Active involvement in SMIA (Southampton Music Industry Association). Aimed at creating a thriving music industry in Southampton, events are tailored for those who are enthusiastic about music and seeking to advance their careers, and at established professionals who aspire to enhance and fortify the local music community.
---
Supporting student radio activities and student bands. Our collaboration with local colleges and universities provides airtime for students looking to develop media and journalism skills. Through these activities, we conduct a number of student-led live broadcasts, and seek to create opportunities to also feature student bands live on the radio.
---
Heavily discounted advertising/sponsorship rates on Outreach Radio for local venues. Prices tiered based on venue capacity as opposed to standard airtime costs, so smaller venues do not pay the same as larger venues, as their revenue potential are not alike. Designed to allow venues of all sizes to maintain a cost-effective, on-going radio advertising campaign capability for events running from week to week.
---
Live broadcast events featuring local artists are a service provided by Outreach Radio to aid in the the social benefit and development of the local music and arts industries and young people.  If you are a potential advertiser that may be interested in sponsoring any aspects of these activities in order to help us fund the continuation of this work, please contact us.
---
Below are Outreach Radio featured artists, (listed alphabetically), together with some background information and links so you can find out more.
---
Abi Clements (Winchester)



My name is Abi Clements, and I'm a 21 year old singer songwriter from Winchester, but currently studying and living in Brighton! See Straight is my first single which was released on the 8th of September, taken off my EP 'I'll be honest boy' which will be out later this year!

See Straight is basically about a love hate relationship with alcohol. Moving to University, drinking is quite often a big part of the experience, so I wrote this song when I was extremely hungover and heartbroken over a silly boy. Drinking to help myself feel better, but it just hurting so much more the next day; as well as feeling sad, you now have a banging headache too!

You can expect all my songs off my EP to be about silly boys, which makes them all very relatable, as I'm sure we all know one!
See Straight is available on all streaming platforms now! Keep an eye out, as this is just the start for me!

You can find out more about Abi and her music on her Instagram.

Amba Tremain (Portsmouth)



Soul singer Amba Tremain has been a firm fixture on the gig scene for 20 years. Be it fronting classic soul show band 'The Soul Session' or providing backing vocals for legends such as Boy George and Eva Cassidy. Amba's introduction to the music industry began in 2001 when she won ITV's 'This is my moment, hosted by Spice Girl Mel B.  Since then she has played thousands of gigs, provided vocals for past and present superstars, appeared on over 200,000 playlists worldwide with her covers band 'Blame Jones', and she has enjoyed recognition for her own music by BBC introducing and radio stations worldwide.

A lover of funk, soul, RnB and blues, Amba's music is full of depth, passion, heartache and 'killer chords'. The Singing Soulstress from the South Coast mixes brand new music with old school vibes, creating songs that have the power to transport you back in time. With a heavy dose of commercial blues and RnB thrown in, there are influences of Aretha and James Brown spliced with Alicia Keys and Amy Winehouse, adding in some classic soul. Whether she's out acoustically or with her full band, Amba delivers a huge, unadulterated soul show and packs a real punch with her vocals. Her songs are true stories about passion, love, heartbreak and honest feelings, some will even move you to tears. This year sees Amba release her debut Album 'Righteous'. Catch her now, before it's too late...

You can find out more about Amba and her music on her website.

Arthur Chambers (Chandler's Ford)



Arthur Chambers is a young musician based in Chandler's Ford. You can find out more about him via his Spotify.

Auden (Romsey)



From Romsey, Auden are a four-piece indie band with aims of introducing jazz harmony to upbeat indie rock rhythms and catchy guitar melodies. The group originally formed back in 2019 when school friends Finn (vocals/guitar), Isaac (drums) and Oliver (bass) started playing together. In late 2021, Isabella (guitar/backing vocals) joined the band, finalising the lineup before releasing their debut single 'fairy lights'

You can find out more about Auden through their Instagram.

Bella Estelle (Portsmouth)



Bella Estelle is a British singer - songwriter from Portsmouth who started writing her songs at the age of 12. A self taught pianist and guitarist, the first song she wrote was her first recorded single - 'Blurred Vision'. Since then she has acquired a full accompanying band in the genre of Pop/Rock.
Bella Estelle has made appearances on Express.fm, Icebreaker Festival and the highly popular Victorious Festival which has led to positive reviews from articles in the press. Both singles, 'Crazy In Love' and 'Blurred Vision' have been awarded BBC Introducing's Track of the day in Sussex and Surrey.

Estelle's single, 'Crazy In Love', has been voted as one of the Top Ten Local Singles of the year (2018) as well as being awarded as runner up for Best Solo Artist of the year (2018) at the Guide Awards.

Currently, Bella Estelle and her band are continuing to gig along the south to expand their fanbase while they work hard in the studio for the next single releases...

You can find out more about Bella and her music through her Linktree.

Belle Dame (Southampton)



Belle Dame is an international alternative indie band from Southampton that was formed just before the first lockdown. They released their first single in the summer of 2021 - 'Mary Sue'. Since then they have been playing shows across the UK and have amassed over 80,000 streams from all platforms. Belle Dame have had their music on BBC Solent Introducing multiple times and eventually took their track 'Mary Sue' to Radio 1 Introducing where they were shortlisted to win a spot on the bill at a BBC introducing live concert.

One of their biggest achievements was playing at Sebastianas Festival in Freamunde, Portugal where they performed to a crowd of 20,000. 
Riding off their latest release 'LA WONDER' the band's debut album, Belle Dame are already putting together new material for the next big single.

You can find out more about Belle Dame and their music through their Linktree.

Charley Stride (Eastleigh)



A talent from a young age, vocalist Charley Stride showcases her talent early on winning a number of vocalist competitions in her youth. Far from satisfied, she continued to build her local reputation and has sold out multiple venues across the South Coast. She's also graced the stage of Glastonbury, Bestival and The Isle Of Wight as well as supporting the likes of Tom Jones, Simply Red, Will Young and loads more.

You can find out more about Charley through her Instagram.

Charlie Smith (Romsey)



My name might be common but my style is alternative. I'm Charlie Smith a singer-songwriter from Hampshire, UK. My sound is chillingly sweet, raw, and emotive. In keeping my honest approach of recording with no unnecessary effects. Focusing on chords and melody above all else. I'm proud of my music not because it's perfect but because it tells a story.

You can find Charlie on Spotify, Facebook, YouTube, Instagram, and Twitter.

Charlotte Neal (Portsmouth)



Following the legacy of her Great Grandfather who performed all across Portsmouth in churches and functions, Charlotte is persistent on making her mark in the music industry and one like no other, pushing her way through the red tape and making 2023 her best year yet.

Lined up with festivals for this year and summer gigs, the grafting is never ending for Charlotte. With 10 years of music experience and perseverance, Neal has released 11 songs, her latest being her FIRST Christmas Hit "Saucin', Dancin' It Up (At Christmas)" and before that her R&B Soft Rock Anthem "Devil". Charlotte's passion for music flows through her first mixtape, currently in the works. Neal's brand new single off of her Mixtape will be releasing in the coming months.

You can find out more about Charlotte via her Linktree.

EMZ All Stars (Portsmouth)



We are a UK based Reggae band who are slowly but surely being recognised for how seriously we take our musical journey as one tight knit collective, both on stage and in the studio. As a band we all come from various musical backgrounds, and this helps us add unique flavours to our music. We are driven by our multi-talented vocalist Emiliyah who's energy and audience interaction, makes every live performance something memorable, uplifting and the audience wanting more.

Born from the legacy of EMiliYAH and The MightyZ All Stars, EMZ All Stars are now ushering in a new era with new songs and new flavours, plus some new faces in the line up. 

You can find out more about EMZ All Stars on their website.

Four Blokes (Southampton)



"This was taken from their Spotify, I had to translate it from Portuguese so it might be a bit off" - Onur (The Groovy Pelican)

Four Blokes are a group of good rockers based in Southampton. Their music is quite rock and quite lovely. The members of the Rocking Organized Group (ROG) are: Harry Noke (Irish) Tiago Martins (Portuguese) Myles Sears (German), and George Grice (Local)

You can find out more about Four Blokes via their Instagram.

Foxbridge (Gosport)



Acoustic duo. Some songs aren't meant to be singalongs. With harmonies that will pierce your heart, together they dive deep into the dusty rooms of life, writing and singing about the things to remember and the things you can't quite forget. As equal vocal partners in the duo, their sound is inspired by The Civil Wars.

You can find out more about Foxbridge via their Instagram.

Frankie Knight (Portsmouth)



Portsmouth's Frankie Knight will lead you into a dream world filled with haunting melodies, bass-heavy beats, and synths hooks that will be swimming around your head for days.

Inspired by Massive Attack, Unkle, Bjork, Bonoboand Grimes, she mixed pop sensibilities with a love for bass heavy music to create her own brand of tropical trip-hop with references to soul, dub, folk and jazz.

Her debut album Blue Marble was released in 2019 with the first single, Tijuana receiving support from Lauren Laverne on BBC 6 Music, John Kennedy on Radio X, and making the top tracks of the week playlist on Apple Music and BBC Introducing. She has honed her live performance with support slots with Kosheen, Hollie Cook, Young Fathers and performances at various festivals including Shambala 2019.

Taking an enforced break from live music during Covid Lockdowns Frankie focused on visual art and creating production music with Ink Project, but is now back with her drummer, best friend and co-producer Robert Swaine with a new album and new live setup with a mission to spread positivity through immersive electronic music performance.

You can find out more about Frankie Knight via her Bandcamp.

Hunting Hearts (Southampton)



Hunting Hearts are a genre-queer trans punk band from Southampton, England. The band's crowdfunded debut album Anybody Else was released Friday 22nd April 2022 and heralded by The PunkSite.Com as a 5-star "Masterpiece of human emotion". Formed in September 2018, the band released their debut EP Pride Not Prejudice in August 2019 and played the Main Stages of Reading and Southampton Pride in their subsequent tour. Their roster of support slots also includes the likes of Martha, Dream Nails and Grandmas House.

You can find out more about Hunting Hearts via their Linktree.

Isabella Fairey (Southampton)



I am a 17 year old singer-songwriter from Southampton. I write pop/alternative pop music and enjoy covering songs of that genre on my Instagram @isabellafaireymusic. My songs are about my life experiences and how they make me feel, I also hope to relate to many other people who feel the same.

You can find out more about Isabella via her Instagram.

Jack Child (Portsmouth)



I make music in my bedroom and love playing it to people, I started a mixtape project 'Why Does New Years Suck So Bad' around late 2021 and it came our on new years 2023! Have a listen and it might just be for you 😁

You can find out more about Jack via his Superjoi.

Janvi (Southampton)



"Janvi is a young singer-songwriter based in Southampton. She got in touch with us here at Outreach Radio after being recommended to us by my GCSE French teacher - And I have to say she's got an amazing voice!" - Onur (The Groovy Pelican)

If you want to find out more about Janvi, go check out her Instagram.

Leonardo Giuliani (Southampton)



Leonardo Giuliani is an independent musician, guitar player and singer-songwriter, whose music revolves around and is influenced by Rock, Blues, Country and Folk.

Working and dedicating his life to music and to keeping it organic, honest, and meaningful. Striving to make others feel like music makes him feel.
In 2019 he had the honour to be invited to sit in with Buddy Guy at his Legends club in Chicago, one of his Blues influences and a guitar icon.

His debut album is currently in post production and scheduled to be released later this year.
The record is produced by four-time Grammy award winner producer Tom Hambridge, who also plays drums on the album, and presents Phil Palmer on rhythm guitar and Robben Ford as a guest on one song.

His sound is primarily influenced by those artists and bands from the late '60 and 70's, from acoustic singer-songwriters to electric jam bands, all of whom played something different every night and made every performance unique.

You can find Leonardo on his website, Facebook, YouTube and Instagram.

Lewis Simons (Ringwood)



Lewis Simons is a 14 year old singer / songwriter and guitarist from Ringwood in Hampshire, England. His first Album called 'Invisible' which he wrote the lyrics and composed the music to during the 2020 Covid-19 lockdown period at age 12, was finally recorded in the studios at Absolute Music in Bournemouth and has been released for sale on all music platforms. His latest tracks 'Give me a Chance' and 'That Girl' have received widespread praise from the music Industry professionals at Polydor Records and BBC Radio. That Girl was selected by the BBC Radio as one the best songs of 2021 and has been aired on multiple FM and online Radio channels. Lewis can regularly be seen playing the local pubs and festivals around the New Forest area. He is a student of the performing arts having played a number of lead roles on stage at the Bournemouth Pavilion and lighthouse Poole theatres.

You can find out more about Lewis and his music via his Linktree.

Lost Post (Southampton)



Lost Post are an Americana trio, hailing from all around the world, coming together in the south coast of England and crafting their own special blend of folk, country, blues and jazz; the music and culture of each member's homeland trickling through and culminating in a sound wholly their own.

They can be delicately intimate one minute, lively and energetic the next, having the ability to both bring an audience to silence and have the whole room on its feet dancing in the same show. Combining original compositions and obscure covers of songs you might never have heard in the UK, their performances are always sure to leave you with a smile on your face and a warmth in your heart with their guitar-driven, lap steel-induced, bass-walking, harmonica-wailing sound.

You can find Lost Post on Facebook, YouTube and Instagram.

Lottie Lunaire (Southampton)



Growing up in a musical family it was an environment full of inspiration for Lottie to feed off. Lottie loves to perform, play and record music. From a young age Lottie has been on stage and since then has grown her passion of music.
Singing and playing the piano has always been a passion of hers and throughout her childhood she was always trying new instruments. This lead to her experimenting with what she would play with which grew her musical knowledge. Since then she has always tried to incorporate every instrument she can in all her music and always loves to see what she can create on her own.
Teaching piano is one of Lottie's skills where she gets to show her love for music and encourage others to grow theirs. Lottie also loves to play live, in function gigs, open mic nights, jam sessions and any live event she can play at.

You can find out more about Lottie and her music through her Linktree.

Mad Simple (Bournemouth)



Mad Simple are an up and coming Indie / Alternative Rock band from Bournemouth, South Coast UK. The band formed as a merger in 2022 after the COVID pandemic forced previous band projects to end. They met online initially and jammed out old and new song ideas forming an entirely new and exciting sound. Collectively between the four of them, the feeling was shared that the fire still burnt strong to create, record and perform original music - and Mad Simple were formed!

You can find out more about Mad Simple and their band through their Instagram.

Mantrafox (Southampton)



Mantrafox is the personal creative voyage of Robert Freemantle.

Songs take the form of classic-style narratives, embodying a melodic essence that harks back to the golden age of songwriting.

Having triumphed over a lifetime shadowed by depression and anxiety, Robert champions hope for those navigating their own struggles, as a reminder that one need not brave their battles alone.

You can find out more about Mantrafox and his music through his Bandcamp.

Mary Red (Portsmouth)



Mary Red is a singer songwriter aged 29 from the city of Portsmouth. Think Amy Winehouse meets Janis Joplin! Mary's vocals are jazzy, bluesy, raw and like gravel - she has a powerful unique velvety tone that is original and sure to be remembered!

You can find out more about Mary Red via her website.

Mike Comer (Burgess Hill)



"We're not entirely sure who Mike is, but he sent a written letter (a written letter!) to us back in January 2022, and provided the CD for his song 'Tightrope'" - Onur (The Groovy Pelican)

Mike Comer's letter to Outreach Radio reads as follows:

"Dear Sir/Madam

My son, Mat Comer, set up and now co-leads the Community Cafe for the homeless, vulnerably housed and lonely at New Community Church, Central Hall, St. Mary Street. The cafe aims to provide a safe and friendly environment where everyone is welcome and respected, regardless of beliefs, background or situation.

Mat balances a demanding full-time job, Church activities and sporting interests with his wife. In recognition of his achievements at the Community Cafe, I have written a song about homelessness, simply called 'Tightrope'.

With limited technical resources at my disposal, I am unable to do the song justice. Is this something you could help with and maybe at the same time, enhance public awareness and interest in this serious problem.

I fully appreciate that this approach is a little unusual.

Kindest regards,
Mike Comer."

As we are unsure of how to contact Mike, Onur (The Groovy Pelican) thought it would be nice to put forward a word or two on this page, in the hope that he sees it.

"Mike, thank you so much for sending over your song. We absolutely loved it and gave it very regular airplay when it came to us back in January. We have since included it on our daytime playlist, so your intention for the increased awareness for the homeless situation hasn't gone without notice.

Once again, thank you for sending your song over. We hope to hear from you again at some point.

All the best,
Outreach Radio"

Molly Meaker (Southampton)



Molly began her musical training on classical viola, attending Saturday music schools in London. She discovered her passion for songwriting at 14 which eventually led to her release of a homemade self-produced debut EP 'Pardon My Enthusiasm' in the summer of 2020, aged only 16. Now 19 and studying music at Southampton University, a new full length album is in the works (release date TBC).

Debuting at the world famous Ronnie Scott's jazz club in an industry showcase in summer 2022, Molly has gone on to play sets at the Half moon Putney and Amersham Arms, and many venues around Southampton. She aims to extend this list performing at festivals in the summer.

Molly's sound is an eclectic array of alternative rock, 50s blues and folk rock, inspired by years of listening to Pink Floyd, Joni Mitchell and Jeff Buckley. With lyrics inspired by poets such as Sylvia Plath, Molly's songwriting addresses the stigma of mental health and being a 'medicated youth' (a lyric from unreleased song 'Sertraline') and exploring both the pains and the joys of growing up, especially in the 21st century.

You can find out more about Molly through her Linktree.


The Optimists (Isle of Wight)



The indie alternative rock band from the Isle of Wight, "The Optimists will deliver a performance that will force you to rearrange your top 10 favourite indie-rock bands! subject your entire body to a no-compromise riff-driven fusion of 90's/00's influences with a modern sound!"

Formed in early 2018, frontman Matt Read, guitarist Aaron Meakin, bassist Henry Bolton, keyboardist Jacob Hopkinson and drummer Jacob Cass have played across the UK's South Coast, regularly receiving radio time with BBC Introducing and now achieving a slot on the Isle of Wight Festival Mainstage!

Through a combination of throwback guitar tones, far from tame bass lines and a vocal like no other, The Optimists will definitely provide a live experience leaving you wanting more.

You can find out more about The Optimists through their Linktree.


Our Propaganda (Southampton)



Our Propaganda is Jack Denton (Lead Vocals, Rhythm Guitar), Joe Newman (Bass Guitar, Acoustic Guitar, Backing Vocals), Harvey Groom (Lead Guitar, Backing Vocals), and Charlie Denton (Drums, Percussion, Backing Vocals). Forming as an angst fuelled rabble - with a passion for music and a drive for success - the band came to life in a garden shed, surrounded by whatever equipment they could find, jamming at volumes better suited to live venues than suburban streets. Over time, Our Propaganda found our sound; merging influences from the likes of Biffy Clyro and 21 Pilots, with the iconic styles of Pink Floyd and Fleetwood Mac.

Eventually, the band's consistent hard work started paying off. From building a loyal home-town following in Southampton - which allowed them to headline 700 capacity venue The 1865 - to recording their debut album with renowned producer Steve Lyon (Depeche Mode / The Cure), then mixed by Grammy nominated recording and mix engineer Jonas Westling (James Arthur / Lady Gaga).

An appearance at 2021's Isle Of Wight Festival was just the shot of adrenaline that Our Propaganda needed to kick-start the promotional process behind their debut album "Fast Food At Midnight" - an album which explores the group's historically tumultuous personal lives, their hard-won bond as a band, and their perspective on modern-day life; the metaphor of eating Fast Food At Midnight, being used to explain how so often we do things that we know aren't good for us, and yet continue to do them anyway.

Like any journey, things weren't always plain sailing. Our Propaganda's relationship as a band was forged through the best - and worst - of times. From losing loved ones to suicide, working through personal mental health issues, unresolved childhood trauma, and the harmful coping mechanisms which so often accompany these things. All of these demons eventually found an outlet through diverse, emotional musicianship, and honest, heartfelt story telling. Despite the albums origins – perhaps, even because of them – there are still sincere, uplifting songs of hope, love, and devotion, with an overarching message that, when people rally together, we can overcome anything.

Our Propaganda now look toward 2023, with plans to take their abundance of energy and well-crafted showmanship, out onto the national stage. Alongside side this will be fresh merch drops, a brand-new music video, and a deluxe-edition vinyl release, which will feature three previously unreleased tracks!

You can find Our Propaganda on Spotify, Facebook, YouTube, Instagram, and Twitter.

Owen Vincent (Portsmouth)



Maker of music, on the rise from Portsmouth, UK. Singer/Songwriter & solo artist Owen Vincent, 22, creates the music which are soundtracking his observant journey through life. Taking inspiration from eras such as the 60s rock&roll to Grunge and Brit-pop of the 90s, Owen's music resembles traditional Indie Rock music but can be heard glazed with original, modern studio experimentation.

You can find out more about Owen and his music via his Linktree.


Panasomos



Panasomos was formed in 2020, with our aspiration to make the world smile a little more. We're a UK based British-Venezuelan duo, inspired by Latin fusion and happy times. The name Panasomos is a fusion of two Spanish words: "pana", a colloquial expression for saying "friend" used in Venezuela and other Spanish-speaking South American countries; and "somos", which is universal Spanish for "we are".

You can find out more about Panasomos via their website.

Rebecca England (Southampton)



Rebecca England is a singer/songwriter based in Southampton. Her 'soulful' vocal and 'vulnerable writing style' is certain to pull at your heart strings.

You can find out more about Rebecca via her Linktree.

Rhirhi (Isle of Wight)



Rhirhi is an unsigned indie bedroom pop songwriter and artist who grew up on the Isle of Wight, curating songs with themes of love, loss, and mental health . Inspired by the likes of the Velvet Underground, The Beatles and more current artists such as Dodie, Cavetown and Sir Chloe, rhirhi's music is an easy listen and a relaxing, grounding experience. With 3 years of professional gigging experience, most notably performing at the Isle Of Wight festival in 2021/2022 and London's iconic Half Moon in 2023, rhirhi's career is well underway. Rhirhi's music has been described as 'almost haunting' by BBC Introducing and 'like a warm hug' by her listeners. Rhirhi plans to release her debut album this summer.


You can find out more about Rhirhi and his music via her website.

Richard 'Ricky' Palmer (Portsmouth)



Richard 'Ricky' Palmer, an independent singer/songwriter and Respiratory Nurse Practitioner from Portsmouth, UK.
I started my own record label last year, Shine4U records, as I wanted to release a fundraising song, I will Shine4U, a collaboration with local musicians, with proceeds being donated to the Florence Nightingale Foundation in support of my fellow nurses.

You can find out more about Ricky and his music via his Linktree.

River Knight (Southampton)



Formed in 2017, Darren Knight was writing songs as a form of therapy after the tragic passing of his wife and Mark Stone River was there to support him. They continued writing, so they decided to call themselves a band and River Knight was born. The guys recorded the first song they wrote and released Heaven's Door through Bandcamp. The fellas were continually writing and had regular gigs in London, Portsmouth and Southampton with a view to moving further afield, but then Covid happened. Rather than sit back and wait they recorded their debut album "Grow" remotely throughout lockdown, and when it was over they got together and invited a few friends to play on a couple of tracks to celebrate.

With various influences from multiple decades and genres, River Knight create music that defies labels. Each of the songs has it's own individuality, all the while retaining the essence of what River Knight are.

2 blokes, 1 guitar. 2 voices, 6 strings. (And a little bit extra on the album).

You can find out more about River Knight and their music via their website.

Rob Clamp (Southampton)



Rob is an independent one man band from Southampton who mixes a blend of catchy acoustic riffs with a foot stomping beat. Having released his debut single 'Wind In My Hair' in 2020, Rob has gone on to be featured on the likes of BBC introducing, whilst continuing to be an ever present on the live music scene across the south coast of England.

Heavily influenced by the likes of; Ben Howard, Tom Petty & The Heartbreakers and Bruce Springsteen - Rob's music is filled with real life experiences, reflecting his transient lifestyle and describing the people he's met. Rob released his debut EP 'Answers On A Postcard' in October '21, with his debut album scheduled for release in late 2022.

You can find out more about Rob and his music via his website.

Rose's Diary (Fareham)



Rose's Diary is an indie rock band from Fareham. Inspired by early 2000s rock and continuing with their nostalgic sound, the band have supported for Prima Queen, ARXX, BLAB, Lambrini Girls, Alien Chicks, Cowboy and Sleeper.

You can find out more about Rose's Diary and their music via their Linktree.

rosewater (Fareham)



rosewater are a five-piece indie pop rock band from the south-coast, taking inspiration from a variety of modern English rock bands. With their debut EP filled with exciting melodies and catchy riffs, released in the late summer, rosewater navigate through a wide variety of genres as presented in their original music. Alex (Guitar + lead vox), Finn (Lead Guitar + vox), Ava (synth + vox), Will (Drums) and Cam (Bass) like to convey the swaying themes of adolescence throughout their music and beyond, hoping to produce music for the people to apply themselves to.

You can find out more about rosewater and their music via their Linktree.

SAHARA (Portsmouth)



SAHARA are an alternative rock band from Portsmouth, UK. Since our inception in 2021, we have grown over the past 2 years, headlining many gigs and mini festivals across the south coast and also securing a future slot at the Victorious Festival.

You can find out more about SAHARA through their Linktree.

The Samurais (Bournemouth and Poole)



The Samurais are a four-piece good time indie rock band based in Bournemouth and Poole.

Neil Sexton-San (Lead Vocals & Rhythm Guitar)
Tim Jones-San (Bass Guitar & Backing Vocals)
Rob Russell-San (Lead Guitar & Backing Vocals)
Paul Currah-San (Drums)

Formed in 2018, they started out playing covers gigs before working on their own original material during lockdown. The band are currently in the studio recording their debut album, with their first single "Do What You Feel" released in March 2022, and their second single "Silence of the Day" to be released in August 2022. Expect to be energised with strong hooks and melodies from this exciting new band.

You can find out more about The Samurais through their Linktree.

Sclupt (Southampton)



Sculpt are a rock & roll band from Southampton, England, developing a reputation for lively live performances.

You can find out more about Sculpt through their Linktree.

Sexy Pretty Things (Portsmouth)



Hey what's up! We're Sexy Pretty Things. A 4-piece melodic punk band from the South Coast of England.
We can be as sweet as kittens in a candy river, and as aggressive as crack addicts who've run out of drugs.

Our songs include - but are not limited to - Alcohol. Anti-depressants. Just wanting to have fun. Love. Hate. Boredom. F***cking. Love f***ing. Hate f***cking. Regret. Tongue-in-cheek self deprecation. Hentai. Conspiracies. Getting old. House parties. Being happy. Suicide. Mom's spaghetti.

We've had the seal of approval from The Front Bottoms and Hobo Johnson. Played with Pulled Apart By Horses, The Men That Will Not Be Blamed For Nothing, and lots of other great bands.

Here's a few you should check out whilst you're at it - Riskee and the Ridicule. PizzaTramp. Slackrr. Automatic Panic. The Appalled. Madcap. BoxCat. The Fangs Of The Dodo. Greg Barnes. The Deltorers. Black 3lvis. The Carolines.

The BBC also played 'LSD' once, but they don't seem to like us anymore. That's okay though.

You're cordially invited to come and see us play live. If you don't like people, that's okay too. New music is on the way.

You can find us on social media if you want to keep up with us. We're most active on Instagram, but you can find us on Facebook too.

Thanks for taking the time to read this, and we'll catch you sexy beasts soon!

Siobhán & The Sunset Haze (Southampton)



Hailing from the South Coast of England, Siobhán began her career as a solo singer-songwriter telling her own tales of love, loss, and lessons learned.
Having released music alone, she is now regularly accompanied by her collective band of friends, known as 'The Sunset Haze'.

Planning to release their debut EP this year, after the pandemic halted their proceedings, they're returning with a bigger and better folk-rock fusion and wild-hearted live show.

You can find out more about Siobhán & The Sunset Haze through their Linktree.

The Slack 5 (Southampton)



The Slack 5 are Stuart Powell, Flávio de Oliveira and Simon Nightingale, and they're bringing own their own brand of funk and jangle to wherever they're allowed to play.

Too old to die young, getting stuck in traffic and being put on hold, they're here for their own amusement to make your feet tap.

You can find out more about The Slack 5 through their Facebook.

Solace (Isle of Wight)



Solace are an independent rock band from the Isle of Wight. They performed at one of our HMV Live and Local events in late 2022, and have since been avid supporters of Outreach Radio. Influences include Pink Floyd, U2 and New Order.

You can find out more about Solace through their Facebook.

The Soulcatchers (Southampton)



The Soulcatchers are an exciting nine piece Soul & Motown band playing all the classic songs from the era.

Based in Southampton, we play venues throughout Hampshire, Dorset and West Sussex. We are very passionate about the music we play and authentically recreate the feel and vibe of the original recordings. The band is a blend of very experienced musicians and new talent.
The Soulcatchers are ideal for any occasion – weddings, functions, corporate events, festivals, clubs and pubs. Guaranteed to get everybody up on their feet dancing and having a great time!

You can find out more about The Soulcatchers on their website.

The State Injectables (Isle of Wight)



The State Injectables are a brand new 4 piece female fronted band from the Isle of Wight.

Their unique Grunge/Rock/Pop sound has already gained them a great live reputation, as well as the attention of the likes of Martyn Goodacre and his record label, Das Wasteland.

Inject yourself with pleasure! 💉🎶💋

You can find The State Injectables on Facebook, YouTube, Instagram, and Twitter.

Stratz (Portsmouth)



A little bit about me, I am a rapper / Singjay (dancehall type singing) who wants to use his voice to make a difference.

That difference is to tackle the problems I see with youth (not solely), mental health and unnecessary violence.

I think music speaks to all so why not use It to start a positive change within society and even ourselves.

Music is a tool that was used to heal and spread joy, so I want to put that back into it.

You can find out more about Stratz via his Linktree.

Sugar Bang (Southampton)



Sugar Bang are a 3 piece alt-indie band from the UK. They bring a back-to-earth but modern indie rock sound, while drawing inspirations from bands such as The foo fighters and kings of Leon, consisting of lead vocalist and guitarist McKenzie Barrass, Bassist, Maisy Collins and drummer josh Walker, Sugar Bang bring fascinating three-piece harmonies to the mix, with their catchy hooks and bass lines.

You can find out more about Sugar Bang via their Linktree.

Swedish Keith (Romsey)



Swedish Keith is a covers band that plays funk, soul, rock, reggae and RnB.

Our current lineup is vocal, guitar, keys, bass and drums. We would like another singer and replacement keys player for when ours leaves very soon.

To give you a flavour of what we play: Chaka Khan, Stevie Wonder, Vulfpeck, Amy Winehouse, Michael Jackson, Jamiroquai, Bob Marley, Sister Sledge, Arctic Monkeys, Bruno Mars, Hall & Oates, Luther Vandross, etc.

You can find out more about Swedish Keith via their Instagram.

Tuto Tribe (Southampton)



Brazilian extrovert, Tuto, and his tribe of musicians perform joyful, fun-fuelled shows with their modern, bright Brazilian sound with catchy, sing-along hooks and rhythms influenced by samba, rock, Jamaican music and jazz. From the streets of Sao Paulo to the avenues of Southampton, via Argentina, South Africa, Germany and Italy, Tuto has made England his home. 

Since moving to the UK in 2016, Tuto has developed his stage presence and music, and today, is a resident artist for Revolucion de Cuba, performs mostly across Southern England and recently at Victorious 2023. 

Having previously performed mostly as a latin (mostly) covers band, Tuto Tribe has been and is developing its original music, and has signed to a label in Brazil.

You can find out more about Tuto Tribe via their website.

Vexmantra (Southampton)



Vexmantra is an instrumental rock trio from Southampton. The sound is a curious mix of Pink Floyd, Dream Theater, and Black Sabbath, with trippy samples and a keen focus on groove and riffs.

You can find out more about Vexmantra on their Instagram.

Welly (Southampton)



So, you've come down here in hopes of finding out more about this poxy band. I can help you. I've sat here, for a while now, waiting for visitors like you, waiting to tell them about the vision, the manifesto, the mantra of Welly; and yet they never came. However! Now YOU'RE here, wanting to know the meaning behind all of this, and as our instagram followers soars over the almighty millenium mark, I should expect more of your sort to come. I need an elevator pitch, a pithy one-liner, a slogan. Something that can succinctly sum up this amalgam of GCSE-Drama stars and BritSchool-dropouts. Something which might, fleetingly, keep you off of your screen. Something witty, but poignant too. It's Pop. That's it. It's Pop. It might not sound like it to you now, but this is Pop. This is New Pop. Modern, grassroots, cutting edge yet oh-so-familiar, so cosy. Pop will no longer be held by those without the artist's touch, by suits, in shared Shoreditch office spaces, drunk on Pret Soups. Pop will not become the 'element on the periodic table' it is screeching to be, just an ingredient in yet another compound, producing for the produced, consumed by the consumptive. No. This is Pop. Top of the Pops. The Great British Talent Show. Who will show up this week? Yeah? Why can't Popstars look like someone that lives two doors down? Someone who's Mum your Aunt (who isn't an Aunt) knows from Pilates? Where do these Popstars come from? Here. Here we are. Soon, it'll be our turn for a bit.

You can find out more about Welly via their Linktree.

Wet Leg (Isle of Wight)



Amidst a night of hazy scenes in their native Isle of Wight, Rhian Teasdale and Hester Chambers found themselves at the summit of a Ferris wheel.

They decided to start a band. The band is called Wet Leg.

Wet Leg is sad music for party people, and party music for sad people.

Rhian and Hester each wear a small gold necklace, made by Hester: one that says Wet, and one that says Leg. Before last summer, those necklaces would have been cryptic to almost everyone else. However, a lot has changed since then.

Arming themselves with guitars, effervescent imaginations and a shared love of the The Ronettes and Jane Birkin, through to Ty Segall and Björk, Wet Leg only released their debut single, 'Chaise Longue', in June 2021, but its dry wit, Mean Girls nod and thumping indie-disco beat turned it into a runaway hit. The Mercury Prize shortlisted album is called Wet Leg and is out now.

You can find out more about Wet Leg and their music via the Domino Recording Company.

ZEN JUDDHISM (Southampton)



ZEN JUDDHISM is the collaborative designer rock project from Jude Ωne Eight, a guitarist and songwriter based in Southampton, who is also known locally as the guitarist previously in Jimmy B And The Death Rattles, Le Lizard Royale and HYBRID 6.0.

You can find out more about ZEN JUDDHISM and their music via their Linktree.