HMV Live & Local Schedule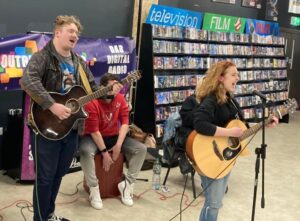 Every Friday evening at 6pm, Outreach Radio is proud to support HMV Live & Local – a collaborative effort to help showcase local artists and musicians.
Broadcasting from The HMV Shop in Southampton, local artists and musicians are given the opportunity to perform live in-store each week.
HMV have allocated a performance area for use free of charge by local artists, and teamed up with Outreach Radio's volunteers to provide the sound system and live radio link-up for this event to be broadcast live across Hampshire and surrounding areas on DAB Digital Radio, online, on smart speakers and on Freeview channel 277.
If you're a local artist or musician interested in finding out more, please email localartists@outreachradio.co.uk.
Entry is free to anyone wishing to come along, so please bring your friends and supporters, and enjoy some great local music whilst supporting some great local artists.
HMV in association with Outreach Radio, Your Truly Local Radio Station, Supporting Local Artists.



DATE
PROGRAMME DETAILS
CATCH-UP
JANUARY 2023
13th
William Bishop
20th
Warmpth
27th
Shayne Dalva
Reschedule date: 31st March
FEBRUARY 2023
3rd
Markus Moody
17th
Owen Vincent
24th
Leo Giuliani
MARCH 2023
3rd
Pip Summers
10th
Mad Simple
17th
Lewis Shepherd
24th
Emotive Concept
31st
Shayne Dalva
APRIL 2023
7th
Hedgehogs
8th @ 3pm
Easter Special:
Pip Summers
followed by
A Rocket Complex
14th
Lurxx
21st
Foxbridge
28th
Nick Tann & The Whole Family
MAY 2023
5th
Paraffin
12th
Vexmantra
19th
Mia Grace
26th
Zozey
JUNE 2023
2nd
Jack Child
9th
Emotive Concept



10th
3pm: Riverknight
4pm: Annie Hayes
5pm: Plastersun
16th
Sculpt
23rd
Leah Tolksdorf
30th
Charlotte Neal
JULY 2023
7th
Di Elle
14th
Hilton Cleeves Conspiracy
21st
Cloudnines
28th
Silverline
AUGUST 2023
Summer Break & Festival Season

Please look out for Outreach Radio's reports & interviews as we continue to support local artists during the festival season.
SEPTEMBER 2023
1st
Janvi
15th
The Slack 5
29th
Sonne
OCTOBER 2023
6th
Kinked Alive
20th
Dead Freights
27th
The Optimists
NOVEMBER 2023
17th
Sounds of Southampton
Album Launch
DECEMBER 2023
1st
The Strifes
8th
No event this week due to staff availability.
15th
Molly Meaker
22nd
Four Blokes
29th